There are still some big names in the competition, but – at least among the Italians – the player with the highest ranking at the ASPRIA Tennis Cup – BCS Trophy (€73,000, clay) remained Flavio Cobolli . Despite having origins in Chianti (on his mother's side) and even Istrian (on his father's side, his grandfather was an admiral), and having been born in Florence, he feels Roman ("e Romanista" keeps in mind specify): it could not be otherwise for those who moved to the capital just a year and played for a long time in the Roma youth team, where he was a valid right-back. But tennis was in his blood, also because father Stefano was an excellent player in the early 2000s. And today he coaches him. Cobolli got off to an impeccable start, beating Michael Vrbensky 6-4 6-0. The best way to approach the third direct clash against Federico Gaio (immediately on the pitch on Wednesday, not before 16.30: the previous ones say 1-1). But what's it like playing the first round of a Challenger against number 347 after challenging Carlos Alcaraz at Roland Garros? "Obviously the stadium is different, but there is no difference in the approach: whether it's a top player or a qualifier, I always try to give my best and win – says Cobolli – that's my goal, as well as the desire to improve day after day. I'm happy with today's performance, as well as the emotions experienced against Alcaraz". Speaking of Alcaraz: in the third set against the ATP n.1, on the Suzanne Lenglen court, the Roman gave the impression of having a lot of fun. "I needed to settle on such a big field and such a strong opponent. I had never played against a top 10, I even happened to be number 1. I'm happy with how I lived the experience and reacted to a traumatic start, I was down 6-0 2-0 and everything seemed uphill. Instead I was good at holding on and testing my limits. I think I passed them, I'm satisfied, I had a lot of fun and I hope to have other opportunities". Number 150 ATP, last year he climbed up to number 133 after a 2021 in which he had a dizzying climb. And how is 2023 going? "I would say that the first part of the season was very positive – he says – I came from an intense 2022, in which I experienced mixed emotions. My reaction was very clear. This is the right path to take, I've improved in many things, I'm happy with it and slowly the results will come".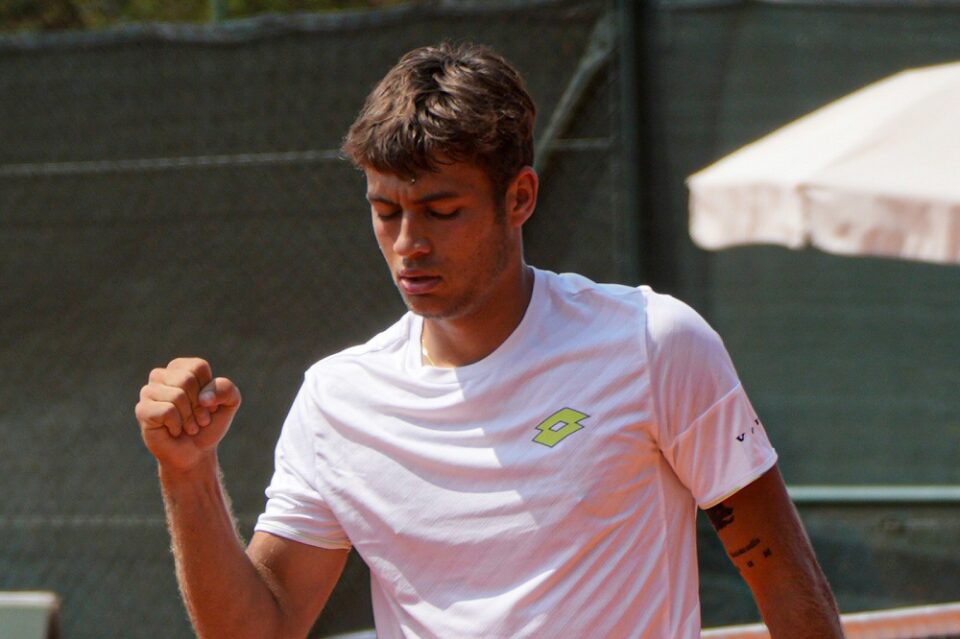 A NICE GROUP OF FRIENDS
Cobolli is a player who leaves no one indifferent: he has a brilliant game, he loves to involve the public, people often side with him. To date, however, he has only won two titles: an ITF and a Challenger. "Clearly I miss the feeling of lifting a trophy, but in tennis you need continuity. Winning a tournament is important, but you win one and then you're not consistent it doesn't matter. Today my mentality has changed: now I want to win every game, without making any concessions. I try to always give my best and have fun on the pitch. For what will come… fate will decide". Cobolli espouses the thesis according to which the real difference between champions and good players does not lie in the level, but in the ability to be constant. But how do you become one? "Good question. I can say that in the last few months I've trained better and consistency has arrived. I believe that feeling good off the pitch, being calm, training professionally and always giving 100% helps to be continuous and effective. It was the key to my last few months. Tranquility and seriousness: I want to go on like this". The ASPRIA Harbor Club tournament therefore represents an important stage in a progression that seems close to a turning point. A tournament in which there are many friends: on his Instagram account, Cobolli shared a story that portrays him around Milan together with Nardi, Gigante and Serafini. The first two are in the round of 16 at the ASPRIA Tennis Cup. "We're a really good group, more friends than rivals – says Cobolli – then it's obvious that we get along better with someone. I grew up with Matteo Gigante, he's my childhood friend in tennis. Then I have several friends, I think of Julian Ocleppo and Andrea Pellegrino. Another great friend of mine is Giulio Zeppieri, with Gigante we form a nice trio from Lazio. But I would like to underline that there is no rivalry between us, we often write to each other when we are not in the same tournaments, we talk almost every day and we help each other". And who knows if this spirit can't help the Azzurri push themselves to the decisive stages of the tournament, where the last Italian to win was a Roman, that Gian Marco Moroni who prevailed in 2021. With ten out of sixteen Azzurri in the round of 16, hope is legitimate.