"Slippery". There could be no better adjective to describe Matteo Gigante's commitment today. Slippery because it rained on Milan in the morning, forcing the start of the program to be postponed by a couple of hours. It is slippery i> because his opponent, Giovanni Oradini, plays with the left like him. Gigante has historically had some difficulties with left-handed players, however he solved the enigma in exactly one hour, a 6-1 6-2 that sent him to the quarterfinals of the ASPRIA Tennis Cup – BCS Trophy for the second year in a row (€73,000, clay). "I've improved my left-handed management a lot – says Gigante – in fact, some time ago I was in a lot of pain, but now I'm used to it. Today I played a great game from all points of view. Delay? No problem because it was the first match. Maybe I can suffer a little when the match has already started and there are interruptions, but in this case everything is ok. Indeed, perhaps it was better to play a little later". Number 256 ATP, Gigante is back from the Wimbledon qualifiers, where he surrendered one step away from the main draw. On the Roehampton grass he played the 100th game of his young career. It is inevitable to ask him which is the most beautiful memory. "Three come to mind: in the meantime, my first success against an ATP top-100. Last year I beat Etcheverry in Forlì. A valuable success, even if you think about what he did afterwards. I also remember with pleasure the victory against Cecchinato right here in Milan. And how can you forget the final in Tenerife, my first Challenger success?". When it comes to remembering the worst match, to keep in mind to prevent it from happening again, "Giga" mustn't activate the memory too much: "Last week's defeat at Wimbledon against Harold Mayot was bad. It wasn't terrible as a score, but I didn't enjoy it. I definitely wanted to do better".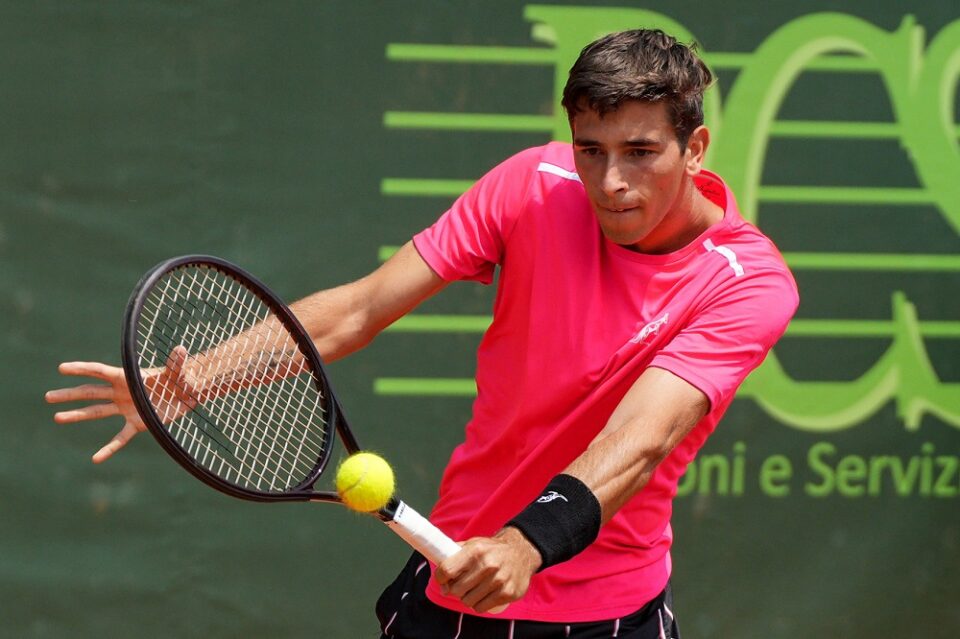 TIFFICULT TIMES
In fact, Gigante's 2023 is not going as he hoped, at least until today: the standings are more or less the same as in January, yet there had been a great start with the title in Tenerife. In the following months, however, the Roman managed 6 wins and 12 losses before recovering in the last few weeks. "After a victory there are difficulties – says Matteo – maybe you think you've arrived, but the road is very long. I've also been slowed down by some injuries, but I've worked a lot and I hope the results will be seen soon". It's not the first time he's experienced a complicated moment: in 2021 he had missed almost the whole season due to an elbow injury, a period he didn't experience too well. Curiously, at the same age (in 2015) Matteo Berrettini had remained stationary for a similar period. "A problem like that at 19 has its pros and cons to him. The pro is that I was very young and had my whole career ahead of me, but at the same time I was in a good stage of growth, I was reaching a very high level and I got stuck. I had so many doubts, I didn't know if I would be able to do better than that. In summary, I was a little afraid of the level I would have when I returned". The responses were thunderous, because in 2022 he experienced an impetuous climb: on January 1 he was number 791 ATP, twelve months later he had climbed over 500 positions b>. Part of the credit goes to the choice of having resumed working with Alessandro Galli, his childhood teacher, with whom he resumed working after a parenthesis at the Rome Tennis Academy. In general, more and more Italian tennis players choose to be trained by the teachers they had as children. "I have to feel at ease, in a group that I feel familiar to – says Gigante – that makes me feel good and at ease. That's why I went back with Galli. I have never received any kind of pressure, the choices have always been mine".
ROMAN GRANDFATHER
In current tennis, the average height of players has risen considerably: for this reason, Gigante's 180 centimeters certainly doesn't place him in the range of… giants. For this, we ask him what characteristics a player with his physical structure must have. "A lot of running, a lot of resistance and a minimum of strength, because high-level players shoot very hard and are physically beasts. If I adapt to that level, everything will be easier. Inspirations? I like Shapovalov and Fognini, talented players, able to show a tennis that is beautiful to see. But in today's tennis it's even more important to win while playing badly…". Matteo is not shy, but with the tape recorder under his nose he doesn't get lost in too many chats. His answers are short, almost marked. Except when he happens to talk about grandfather Romano, the person to whom he owes his passion for tennis. Just mention it and his eyes light up. "He was a great sportsman, he practiced various disciplines i> – he says – he told me that for a long time he thought that tennis was a sport for old people. He started playing around the age of 50, then as soon as I was born he put a racket in my hand. I started because he took me to Eschilo 2, the club where I still train today, to see my cousins. From there my great love for tennis was born". Gigante also owes his Juventus faith to his grandfather ( "But he's not from Rome, he's originally from Fiume" i>). Despite this, he remains Roman. As such, he has attended the Internazionali BNL d'Italia since he was a child. "The most curious anecdote dates back to 2013: I sneaked into the Central to watch a Rafael Nadal match. I didn't have a ticket, but quietly I entered. He was playing against Ernests Gulbis". Rafa, of course, won the tournament. Ten years have passed since then and that child in the stands has become a tennis player. The dream, who knows, is that some young players can slip into the Central just to attend a game of his. He would like to say that he has grown up.