"It's a good fact, I didn't know it. I would say that the numbers are starting to reflect my ideas". By making it through the qualifiers for the ASPRIA Tennis Cup – BCS Trophy (€73,000, clay), Alexander Weis reached the main draw of a Challenger tournament for the eleventh time, almost all in the last twelve months. At the age of 26 in April, the South Tyrolean seems ready for the leap in quality so coveted by players of his level: build a ranking such as to play the qualifiers in the Grand Slam tournaments. For the prestige, of course, but also to guarantee an economic solidity that is difficult to achieve with only small tournaments. With a best ATP ranking of number 317 conquered last week (today it is 321), Weis can be defined half the battle, with the immediate aim of consolidating himself on the Challenger circuit. "I feel more and more at ease in this reality i> – he says – today I face tournaments with more peace of mind. Before, I entered the field with too much 'respect' towards the opponent, now I'm at ease and feel I can compete. I have good qualities, I feel that something has changed. I am more aware". An awareness that arises from the decision to move to Rome, to the Enjoy Sporting Club, where he is followed by Francesco Aldi, Giuseppe Fischetti (with him in Milan), Francesco Vilardo and Riccardo Nobile.
The importance of the staff was seen against Remy Bertola: he had lost us a week ago in the Modena qualifiers, while at the ASPRIA Harbor Club he overturned everything: 6-3 6-3 and centered main draw, in which he will face Hugo Grenier. "I took to the field with clear ideas after reflecting together with my coach (who wasn't there last week) about his weaknesses and his tactical choices. We built a different, more aggressive tactical plan, and it went well". More generally, 2023 is consolidating the certainties of the Bolzano native, convinced that in the short term the numbers will prove his sensations right. "The judgment is positive. I'm still struggling to give myself a grade, but we're working properly and competing well in the Challenger world. I'm trying to play as many games as possible". In his career he has scored two quarters in category tournaments (San Marino 2022 and Skopje 2023), but above all two months ago he beat Fabian Marozsan in Rome-Garden. A few days later, the Hungarian would overtake Carlos Alcaraz.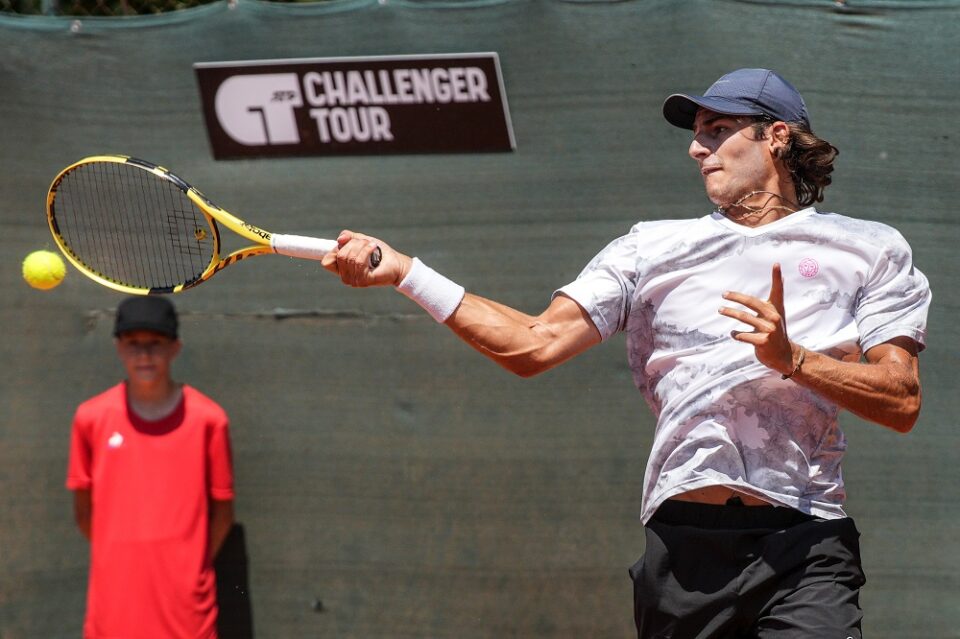 ATYPICAL SOUTH TYROLEAN
What needs to happen for Alexander Weis to achieve such results? "The level has flattened a lot – he says – it often happens, at every level, that maybe a lucky loser gets to the bottom of a tournament. Even here in Milan, looking at the scoreboard, we realize that everyone can beat everyone. In my opinion, the difference is dictated by continuity. If you express a certain level you have to maintain it, instead maybe you play two good games and then drop. Winners know how to be constant, and this makes the difference. Marozsan? His win with Alcaraz was perhaps a bit random, obviously it surprised me, but I knew he would have his chances. As long as the favorite plays a little worse and everything levels out. In the circuit there are many players capable of expressing a great performance". Born in Bolzano, Weis comes from the same region as two icons such as Andreas Seppi and Jannik Sinner. Despite the greater personal proximity with Sinner, he knows Seppi better: "Because he often came to train in Bolzano, while Jannik left very early to move to Bordighera. We happened to play some tournaments together and chat, but I've never had too much confidence with him".
Despite a name that refers to the South Tyrolean tradition, Alexander expresses himself in perfect Italian: "My brother and I are bilingual: with my father I speak German, while with my mother I speak Italian. She cares a lot, being a teacher of Italian and Latin! More generally, there is perfect bilingualism in Bolzano: everywhere you go, from shops to restaurants, everyone speaks Italian and German. Maybe German prevails in the valleys, but Italian is known there too, it's simply spoken just a little bit worse". As mentioned, for a year and a half Weis has chosen to train in Rome ("While still living in Bolzano: it's my home and we live very well there"), so one wonders how one finds a South Tyrolean in the capital. "In fact, there are differences: they are more cheerful, there is greater mental flexibility, the lifestyle is different compared to South Tyrol, where there can be a bit of rigidity… This can have some pros and cons, but I'm fine with it, I love to joke, I consider myself a somewhat atypical South Tyrolean". Considering Sinner a real "out of the box", we don't know if Weis will be able to match Andreas Seppi's results, but who knows if the curious intersection with Roman creativity can guarantee him those results that he has been looking for for some time. Results never close as today.
QUALIFICATIONS: 20 ITALIANS IN THE MAIN DRAW!
Not only Weis: the qualifiers gave another four Hurrah to Italy, bringing our representatives in the main draw to as many as 20. The only one to give up was Salvatore Caruso, forced to retire when he trailed 7-5 3-1 against Michael Vrbensky. For the rest, only victories: the most beautiful was slipped by Giovanni Oradini, very good at recovering an almost compromised match against Dmitry Popko: trailing 4-0 and then 5-2 in the third set, the Rovereto he turbocharged in the last few games and collected 19 of his next 20 points, the last sixteen in a row. Federico Iannaccone (6-3 6-1 to Andrea Arnaboldi) and Francesco Forti also passed, keeping the Argentine Lucio Carnevalle at a distance with the same score. To complete the blue five came Marcello Serafini, who recovered a break from disadvantage at the start, only to dominate against Alex Marti Pujolras. Regardless of the final outcome, the presence of twenty Italians in the draw is truly a remarkable figure, a record.