"So long ago". So long ago. When Viktor Durasovic utters this sentence, his eyes shine with emotion. We had just reminded him of his (excellent) results at junior level, when he reached the third round at Wimbledon and the semifinals at the Us Open doubles. 'Sometimes dreams and reality are different things,' adds the Balkan-born Norwegian, a sort of Lone Rider of contemporary tennis. It is rare, very rare, for a professional to be without a coach in 2022. After several years in Spain, Durasovic returned to Norway and since then has not been followed by anyone 'in 80-90% of tournaments'. It is difficult to succeed, but he tries anyway. At the ASPRIA Tennis Cup – BCS Trophy ($45,730, clay) he reached the quarter-finals. It is his fifth time at a tournament of this level: in the previous four he stopped here three times, while in Portorož 2019 he reached the final. For him, therefore, it is no trivial achievement. He did it by beating Raul Brancaccio in a comeback, just as he had done in the first round against Georgii Kravchenko. It ended 4-6 6-1 6-3: after a first set with too many errors, he started to push hard with his forehand and always played head-to-head. The Campania player tried to keep up with him until the end, but the difference between the two in terms of ball heaviness – at least today – was remarkable. "I started too slow, I didn't have the right energy," said Durasovic, "then I started to be patient. There were two keys: he couldn't attack me too much because he wasn't serving as well as in the first set, while I found the right patience and hit a good number of shots before pushing". In the quarters he will challenge another Italian, the rampant Francesco Passaro, who in a few months has already improved Durasovic's best ranking (no. 298, today he is 315).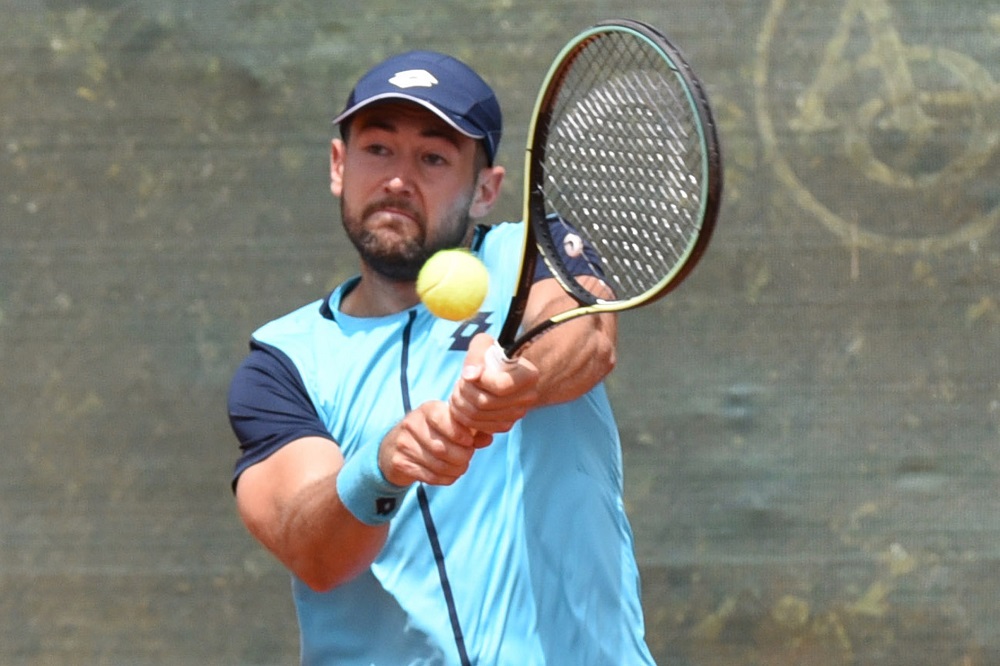 BALKAN ORIGINS
After today's match, in all honesty, it is hard to believe that Durasovic was not able to go higher than this. "Many players can play well, but what counts is not a single match," says Durasovic, looking a bit sad as he bites into a sandwich: having played at 1pm, it's his lunch snack, "but how many matches you can win in a row, and how many times you win without playing well. There is a mix of many things that makes a tennis player strong. Sometimes I was unlucky, sometimes I wasn't mentally strong all week. Only once did I come close to winning a Challenger. It's a question of solidity, only now am I putting it all together. Maybe it's a bit late, but I'm doing things right now. I would like to reach a ranking where I can play consistently in the main draw of the Challengers, so that I have a new chance every week. In the Challengers you can grow, you play a lot of matches at a high level, whereas when you train at home the conditions are very different". He was born in Orkdal, near Trondheim, but his parents fled the former Yugoslavia to escape the Balkan War in the early 1990s. 'I honestly don't know why they chose Norway,' he says, but he is quick to point out, 'the town they come from is on Bosnian territory, but it is an area where Serbian culture and tradition is mostly followed. My grandmother was Catholic, we are not super religious…. let's say it's a mix'. There are not only the Balkans and Norway in Durasovic's life, but also Spain. He moved there as a teenager, attracted by the Mecca of European tennis, but shortly before the pandemic he chose to return to Norway.
CURSED LONELINESS
"Since then I've been on my own, but for the last six months the Norwegian Federtennis has been helping me out. Sometimes a federal coach follows me to tournaments, but most of the time I'm alone." It may happen that a tennis player travels alone, but he still has a staff with him. More rare is the situation of Durasovic, who has beaten a couple of top-100s in his career (Hurkacz in 2018 and Andujar last January). So we ask him how difficult it is to continually travel alone. "After a while you get used to it, but it's not easy. Every single thing is more complicated, but tennis is not for those who want an easy life. The most complicated thing is to believe in yourself: there is no one to push you, no one to say "Let's go!" when you play. It's really hard. But there's another side of the coin: if you can get going, you find something extra that not everyone has. It would be nice to be able to invest in a coach and an athletic trainer, but it's tough. When I'm at home the federation gives me a hand, but it's always very difficult'. There is some disenchantment in Viktor Durasovic's words and – above all – in his gaze. The melancholy becomes huge when we ask him about a goal and a dream for the rest of his career. First he smiles, then answers only the first question. "In the short term I would have the goal of playing a Slam. The main draw would be great, but qualifying would be good too. I only played them as a junior'. And hence the "So long ago" at the beginning of the article. "If I had the chance to play a Slam it would be very nice. When I was young I had so many hopes, but sometimes reality and dreams are different things. If I could play at least one Slam in my career it would be a great memory. We'll see how it goes'. He says this with such a look on his face that one wishes him all the best in the world.