Monday morning brought a couple of last-minute forfeits. Within an hour or so came the withdrawals of the last two winners of the tournament: first Gian Marco Moroni (lower back problems), then Hugo Dellien, blocked by a pain in his right wrist. With the exit of numbers 3 and 4 in the draw, the draw opens up to a thousand solutions, and who knows, maybe some young Italian might take advantage of it. Not too young, but he has not lost motivation, the eternal Ernests Gulbis. A former top-10 player, a former semifinalist in Paris, the husband of a jewelry designer (Tamara Kopaleyshvili), the son of an actress and one of the richest men in Latvia, he would have every reason to drop out. Instead, he continues to struggle despite being outside the top-300 ATP. His tenacity was rewarded in the 5-7 7-6 6-4 with which he overcame Julian Lenz. Weighed down, back to his old forehand movement, he plays with an almost surprising passion. He stayed on the court for nearly three hours and put back on its feet a match that seemed compromised when the German went to serve at 7-5 6-5. In the round of 16 he will face the winner of Cervantes-Darderi.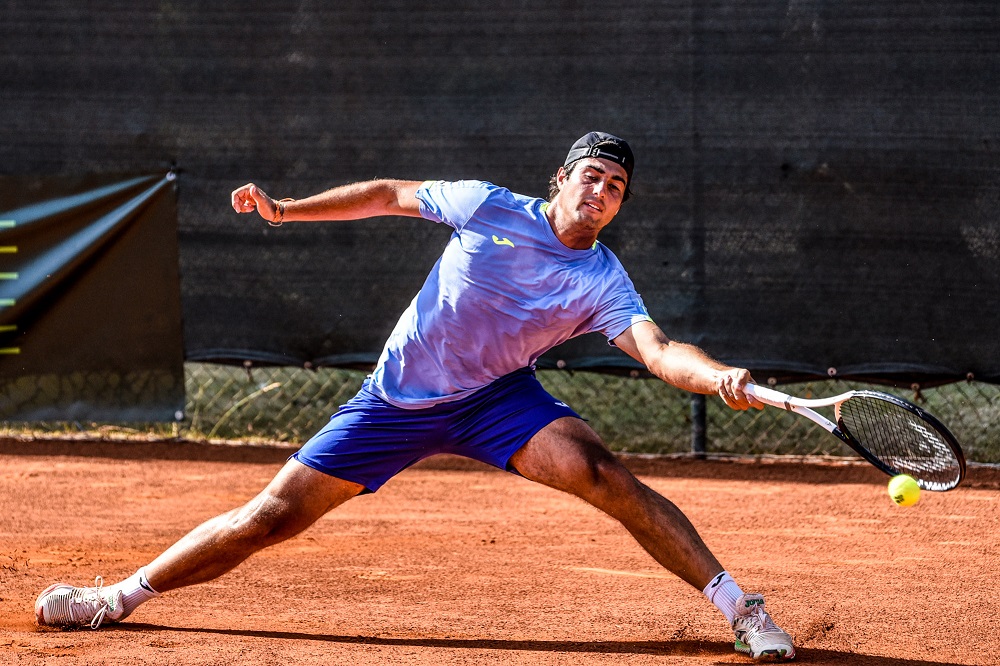 AHEAD FERRARI AND GIGANTE
Closing out the day came the first two Italian rings in the main draw: wild-card Matteo Gigante and Gianmarco Ferrari centered a place in the round of 16. The former won the derby against Francesco Maestrelli (6-4 6-2), while the latter picked up a great win against Frenchman Maxime Janvier, who also precedes him by about 300 positions (No. 289 ATP vs. 579). Ferrari's victory has almost something miraculous about it: down 6-1 5-2, he took the match back by the hair, imposing himself with a score of 1-6 7-6 6-3. And to think that at the change of court at 5-2 in the second, the Italian had quickly regained his place to play, almost resigned to losing, while his opponent took it so easy that he collected a warning for time loss. Point after point, Ferrari found heaviness and depth in his shots, stimulating Janvier from the right side. The Frenchman's forehand showed all his shortcomings, combined with a major mental fragility: on setpoint in the tie-break, he attempted an unlikely serve and volley on his second serve, sinking the volley into the net. He then mentally exited the match in the third, smashing his racket after going down 4-1 and suffering a penalty point a couple of games later for saying a few too many words. Good success for Ferrari, a player who hints at excellent qualities. Left-handed and powerful, he is distantly reminiscent of Fernando Verdasco. He will have to improve athletically and perhaps show a bit more grit, but from that point of view he can rest easy: coach Diego Nargiso (who follows him in a mini-team that also includes Arnaboldi) is the right person to push him in this direction. He will now have a great chance to reach the quarters, as he will face the winner of Paulson-Mochizuki, respectively a qualifier and a lucky loser in the zone of the scoreboard left vacated by Dellien. A maxi-program is scheduled for Tuesday, with as many as ten singles matches and the completion of the first round. Six Italians will be on the court, and it is inevitable that eyes will be especially on Marco Cecchinato (at 2:30 p.m. on the Central against Swiss Riedi) and young Luciano Darderi, engaged against Inigo Cervantes in the opening round. Not before 5 p.m. will be the debut of Benoit Paire, who is already in Milan and late Monday afternoon carried out his first practice to familiarize himself with the clay at the ASPRIA Harbour Club. Waiting for him is Russian Alexey Vatutin.
ASPRIA TENNIS CUP – BCS TROPHY (€45,730, clay).
First Round Singles.
Joris De Loore (BEL) b. Robin Haase (OLA) 6-1 2-0 withdrawal
Alexander Shevchenko (RUS) b. Aldin Setkic (BIH) 6-1 6-2
Ernests Gulbis (LET) b. Julian Lenz (GER) 5-7 7-6(1) 6-4
Gianmarco Ferrari (ITA) b. Maxime Janvier (FRA) 1-6 7-6(5) 6-3
Federico Coria (ARG) b. Pedja Krstin (SRB) 6-1 6-1
Matteo Gigante (ITA) b. Francesco Maestrelli (ITA) 6-4 6-2
Qualifying Round
Fabian Marozsan (UNG) b. Georgii Kravchenko (UCR) 6-3 6-3
Federico Arnaboldi (ITA) b. Mohamed Safwat (EGI) 6-2 4-6 6-2
Filip Peliwo (POL) b. Shintaro Mochizuki (GIA) 6-2 1-6 6-4
Andrew Paulson (CZE) b. Giovanni Oradini (ITA) 6-2 6-0
Giovanni Fonio (ITA) b. Samuel Vincent Ruggeri (ITA) 7-5 6-0