Those who had seen him win Wimbledon junior remember his shyness. Three years have passed since then, and Shintaro Mochizuki has definitely changed. He remains a bit puny, but the keen eye can tell that he is a transition player on the Challenger circuit. On the other hand, he was bet on by a certain Kei Nishikori, who for years tutored him at the IMG Academy in Bradenton, where he moved at the age of 12, even ahead of his famous compatriot. Today Mochizuki is 19 years old and has gained considerable self-confidence, which is necessary to face the (many) difficulties of the world circuit. The one at the ASPRIA Tennis Cup – BCS Trophy (€45,730, clay) is his first quarterfinal in a Challenger. Does it come at the right time, or perhaps he thought he would make it sooner? "I knew I could play on equal footing against anyone, but recently I have lost several balanced matches, in three sets or two hard-fought ones," says the Japanese player, "I have always had confidence, I know that if I express myself at my best and don't lower my level I can beat very good players, or at least have a chance to do so. It is not easy, but I am convinced." He said this after beating Gianmarco Ferrari on the ASPRIA Harbour Club Central, at the end of a long battle (6-4 4-6 6-2 the score) in which the Tuscan – generously supported by coach Diego Nargiso – had his chances, especially in the third set. Down 6-4 3-1, Ferrari had managed to turn the match around, but at 2-2 in the third he had a drop in energy, immediately taken advantage of by Mochizuki (No. 386 ATP).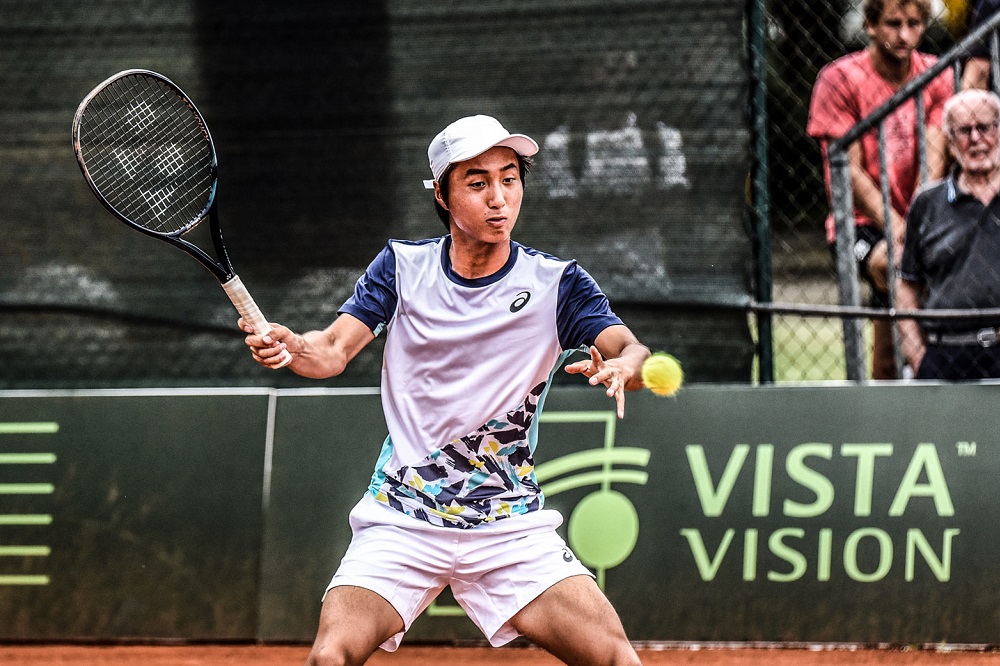 FRIENDLY EARTH.
"I felt ready to play this kind of match," said the 19-year-old from Kawasaki, "I knew it was going to be tough, I wanted to close in two sets but he was very good in the second. The beginning of the third set was tough, but I had great confidence on my athletic side. I did my best until the end and that paid off." At 1-1, Ferrari won an eternal service game (22 points and 7 break points canceled): it seemed the key moment, especially when he went up 0-30 in the next game. At that point the lights went out and with eight points in a row Mochizuki took the lead. The last chance came at 4-2, with a break ball to put everything back on the table: Mochizuki played it like a champion, caressing the ball with a splendid backhand bunt, on the jump, at the end of a prolonged exchange: that point definitely cut Ferrari's legs off. He still lacks something on the muscular level and needs to be more regular with his forehand, but he possesses important qualities. "For this year I have no real ranking goals. I will be happy if he improves, but I just want to focus on the next match. I don't want to think too much about the future, but just do my best." Born in Japan, raised in the United States and now based (tentatively) in France, Shintaro has played 149 professional matches. Of those, as many as 56 on clay. Strange, for someone with his background. "Right now I was supposed to be in England playing tournaments on grass, but until last week I traveled with a technician from the French academy where I am training, so we played two tournaments in France. I don't mind clay: I also love grass and cement, but I never thought I couldn't win on clay. I have the confidence to be able to beat specialists as well. The surface does not cause me any concern." Mochizuki is typical Japanese: kind looks and lively friendliness, but he is very confident. And he seems to have assimilated as best he can the bath of popularity after his success at Wimbledon junior, an achievement that has not always brought good luck to those who have achieved it. And in Italy we know something about that.
MEDVEDEV'S OWN ACADEMY
We asked him how much his life changed after that success. "I pretended I didn't have too much pressure, but instead a little bit you feel it," he says, "but not because I won Wimbledon, but because I have the intimate belief that I can do great things, but it's not easy. I don't think that success has changed much in me, but I suppose sometimes it has to do with the pressure I put on myself." It's normal to have that, especially coming from a country whose best tennis player (Kei Nishikori) was forced to book multiple flights to throw off reporters, or walk around disguised on the streets of Tokyo. The country that, a few years later, produced the highest-paid sportswoman of all (Naomi Osaka). So he got organized: ended his relationship with longtime coach Natsuo Tamanaka, he now has triple support. "I don't have a full-time coach, I try to be flexible according to the schedule. The Japanese federation tries to help me the best they can and I appreciate them very much, then I have a base in the United States and I recently approached the Elite Tennis Center in Cannes, the same academy where Daniil Medvedev works. In the three weeks leading up to this one I traveled with one of their coaches and got along well. I think at some point I will start traveling more often with them, but since I don't have a visa to stay permanently in Europe I have to remain flexible. My base will depend on scheduling." With a career-ending Nishikori overwhelmed by injuries, the Japanese were eager to find a major prospect. Perhaps they found him in this young man walking around the ASPRIA Harbour Club in an AC Milan jersey, the one with Zlatan Ibrahimovic's number 11 on it. "Actually I don't follow soccer," he says, almost embarrassed, "of Milan I only know Ibra. On the contrary, the friend who is here with me in Milan loves soccer very much. He found out that the club is close to the stadium, so yesterday we went to the official Milan store and he shopped. While I was there, I bought Ibrahimovic's jersey. Maybe now I will start following soccer." Especially if Milan should give him a joy on the tennis court.