He may not have hoped to win like this, but what matters for Luciano Darderi is getting a quarterfinal finish, the only Italian to make it on Wednesday. The Italo-Argentine took advantage of Ernests Gulbis's withdrawal when the match was headed in his favor. It was 6-3 and 4-2 to Darderi, 0-40 on the lactic's serve. The last point of the match was a double fault, then Gulbis raised the white flag due to shoulder pain that prevented him from serving and also affected his movements. This is an important result for a guy who has been a professional for less than two years and has already guaranteed himself a chance to participate in the Us Open qualifiers. This is the fifth time Darderi has reached (at least) the quarters in a Challenger, and in Milan he is counting on improving on his best finishes: the final in Sao Paulo last fall and the semifinal played a couple of weeks ago in Perugia. A player of temperament and athletic exuberance, he snatched service from Gulbis in the sixth game and closed out the set avoiding complications in the ninth game, in which he erased a break point. Immediately ahead 3-0 in the second, he contained the mini-retaliation of the lètton, then picked up the pieces. On Friday he will face Federico Coria, who continues to win his matches with ease. After giving up one game to Pedja Krstin, he was also relentless against Joris De Loore, beaten with a clear 6-2 6-0 in a match that lasted less than an hour and ended under a thick drizzle, with the court suddenly becoming very heavy. Too regular and precise was the tennis of the Argentine, who is increasingly favored for the final victory. And who seems particularly motivated, especially after last year's final defeat, which he struggled to accept. Losing so sharply to Gian Marco Moroni had particularly brought him down.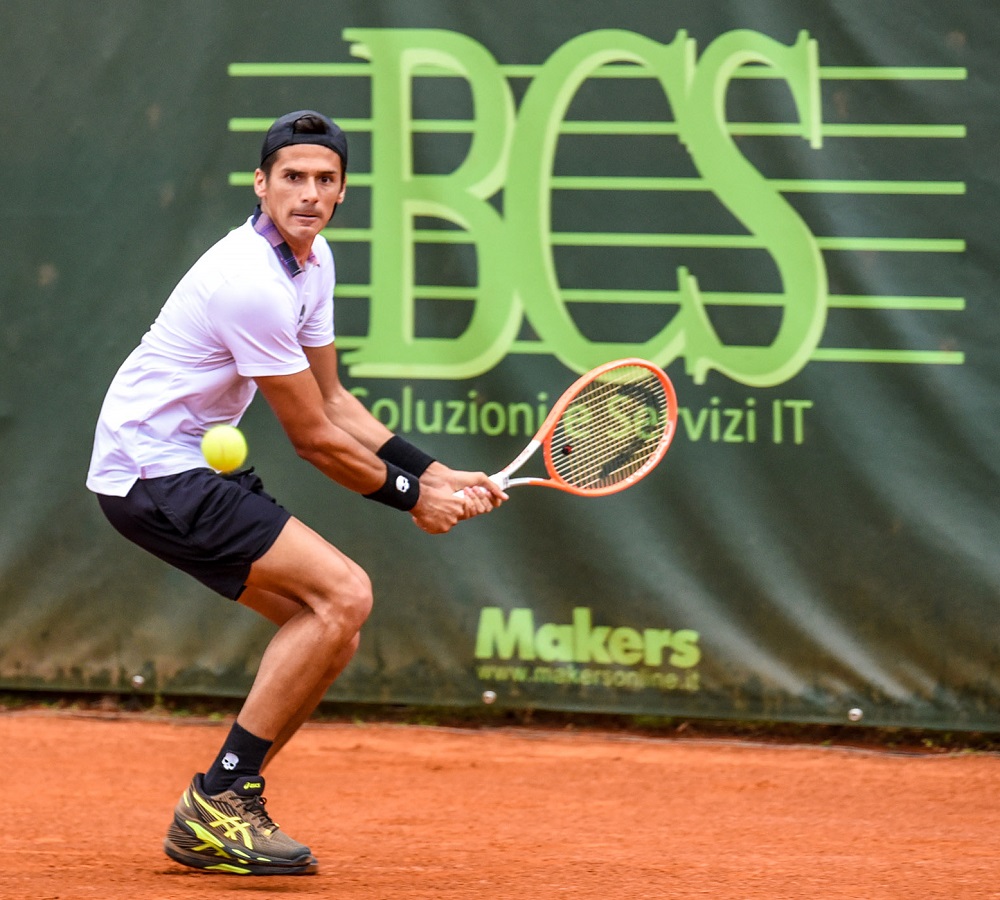 FONIO STRUGGLES BUT YIELDS TO SHEVCHENKO
Giovanni Fonio's fine adventure ends in the second round, although he had his chances against Alexander Shevchenko, number 5 seed and a player with an inexhaustible physical reservoir. It ended 6-3 7-6 and there is some regret for the boy from Novara: between the two he is the one who plays better, but he paid the athletic exuberance of his opponent, as well as some too many indecisions near the net. It's too bad, because Fonio is pleasant to watch and often nets some extraordinary winners, moreover with a rather refined technique. Not forgetting that he shoots the one-handed backhand, a shot that is less and less used on the circuit. If he lost his serve three times in the first set, he could have done better in the second. Ahead 3-1, he had a double-break ball, but there the Russian did well to win a prolonged exchange. Hanging on, he held until the tie-break but burned him a bit in the first two points, in which he had the exchange in hand but failed to close out some rather comfortable volleys, getting stuffed on both occasions. Down 2-0, he was no longer able to hook an opponent who still deserved to win, if only because of a lively competitive presence. In the quarters, Shevchenko will face Mochizuki of all people: the Japanese in an AC Milan jersey… opposite the namesake of a Rossoneri legend. Four other Azzurri are on the court on Thursday: the expectation is especially for the generational derby between Marco Cecchinato and Matteo Gigante, but the commitment of Francesco Passaro, called to confirm the good moment against Alexis Galarneau, and the commitment of Raul Brancaccio, who in Milan is looking for precious points to get his ranking back on track, is also worth following. The Campanian will face Viktor Durasovic of Norway. Matches will begin at 11 a.m., free admission until Friday. For the final weekend, coupons can be purchased on the TicketOne circuit, at an address that can be reached directly from the tournament website, www.aspriatenniscup.it
ASPRIA TENNIS CUP – BCS TROPHY (€45,730, clay).
Second Round Singles
Shintaro Mochizuki (GIA) b. Gianmarco Ferrari (ITA) 6-4 4-6 6-2
Luciano Darderi (ITA) b. Ernests Gulbis (LET) 6-3 4-2 withdrawal
Alexander Shevchenko (RUS) b. Giovanni Fonio (ITA) 6-3 7-6(3)
Federico Coria (ARG) b. Joris De Loore (BEL) 6-2 6-0
First Round Doubles
Matuszewski / Paulson (POL-CZE) b. Durasovic / Setkic (NOR-BIH) 6-3 6-1
Arneodo / Eysseric (MON-FRA) b. Martineau / Torres (FRA-ARG) 6-3 6-7(4) 10-6
Hidalgo / Rodriguez (ECU-COL) b. Gigante / Maestrelli (ITA-ITA) 6-4 6-2
Vatutin / Weissborn (RUS-AUT) b. Babic / Fallert (CRO-GER) 6-2 6-2
Arnaboldi / Ferrari (ITA-ITA) b. Brancaccio / Cervantes (ITA-SPA) 6-2 6-3
Darderi / Romboli (ITA-BRA) b. Merino / Nouza (PER-CZE) 6-1 6-4