In its parts the word "blunt" is used to define the goodness of a performance. And there is no doubt that Federico Coria's week is extraordinary. "It is definitely the first time I have reached the final losing ten games in the whole tournament – he says – the truth is that I am playing solid tennis, I hope to continue on this path and that tomorrow will be the same, in order to get the title that I missed last year ". Beating the rampant Alexander Shevchenko, a pupil of Gunther Bresnik, 6-4 6-1, the Argentine reached the second in the final at the ASPRIA Harbor Club, and once again he will face an Italian player. For him it will be match number 801 in the professional circuit after having made a round figure in a match dominated in the second set after a first "accordion": 2-0 Coria, 2-2, 4-2, 4-4 and then 6- 4 for the Argentine. Shevchenko's vigorous but disorderly forcing collided with Coria's impressive defensive phase, who may not be as strong as his older brother Guillermo, but is really hard to break through. "800 games? I did not know this figure … there are a lot of them! " said Coria, who in Milan is accompanied by Andres Schneiter, known as El Gringo , a former good doubler who is considered a top-tier coach by virtue of the great results obtained with Mariano Puerta (final at Roland Garros) and Cristian Garin (brought among the top-20). "He made me trust me" – says Coria – he woke up something that was hidden in some corner of my mind, before I didn't trust my tennis. He made me discover my competitive side and now I think I'm a difficult player to beat, very physical, who forces the opponent to always play an extra ball. Much of my growth is due to him ". In fact, he is now stable in the top-100, he has played in an ATP final (Bastad 2021), two semifinals and five quarters.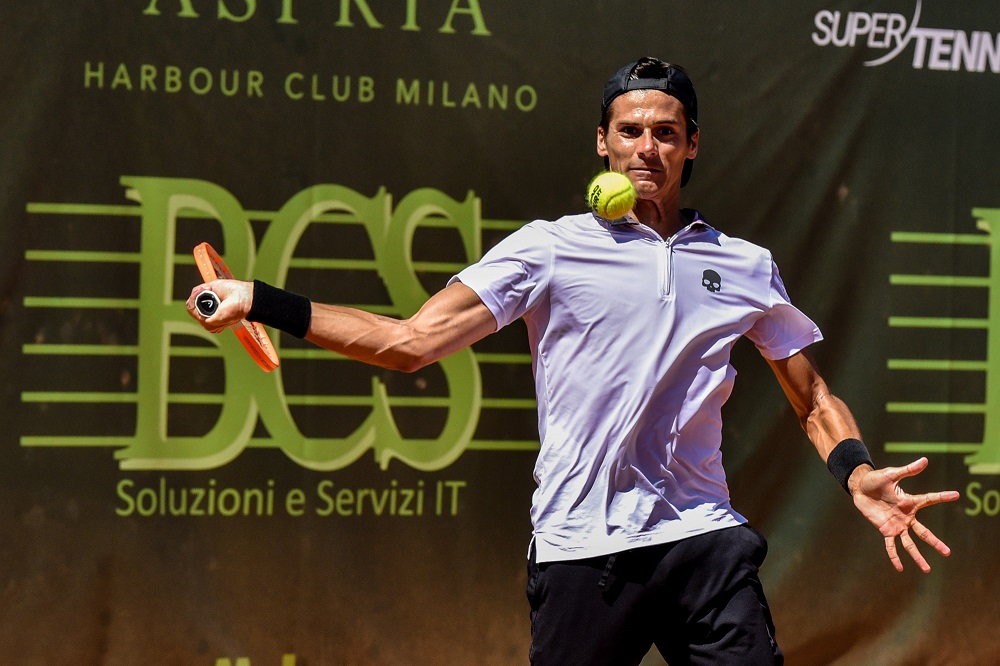 THE BELOVED WROUGHT EARTH
Nothing to do with the many years spent in the ITF circuit, looking for a leap in quality that never came. For this he played 95% (754) of his games on clay. "Before being a Challenger player I preferred clay, for an Argentine it's normal because we don't have hard courts. But if he continues to improve in the standings, I will play more on concrete, both in the United States and in Australia". At that point Schneiter himself intervenes, sitting next to his pupil during the chat. "The stats are impressive, but that's because it took him a long time to become top-100. If you get there at 20-21 as Sebastian Baez did it is very different. If you move up in the standings, it's the circuit that leads you to play a lot on hard courts " Well, but coach Schneiter's idea is to make him play more on hard? "Sure. We absolutely want to improve on concrete, but every now and then we have to take situations into account: for example, in recent weeks we skipped the grass because last year he had collected a lot of points in this period, so it was a question of the classification. But the idea is to make it grow on concrete ". The question on surfaces was also in a Davis Cup key, given that Argentina are included in Italy's group at the Davis Cup Finals. From 13 to 18 September, the albiceleste will also challenge the Azzurri on indoor hard courts in Bologna. "To be called up I will have to do good things on American hard court to complicate the life of the captain, who is also my brother – Coria resumes – right now there are players who are doing better than me like Schwartzman, Baez and Cerundolo. To join the team I have to play well, otherwise I will give maximum support from outside ".
NO MORE GHOSTS
Having mentioned his brother, it is inevitable to recall the difficulties of early career, when Federico was overwhelmed by the comparison with Guillermo, number 3 ATP and finalist at Roland Garros. For him, the comparison was almost a tragedy. "My brother represents a lot in my life, and it's true that I was nervous on the tennis court just being his brother. It happened to me as a child, when I was taking my first steps in professionalism and I didn't want all that attention. Today I am 30 years old and I am making my journey, I have left everything behind and it does not bother me anymore ". The feeling is that a lot of apprenticeship has strengthened Coria's body and spirit, and that the best of her career is yet to come. When asked how much tennis he has left in front of him, he answered firmly: "Touching iron, I am physically healthy and I feel very young. After all, I entered the top 100 at 28 and I'm very hungry. I feel like I'm 25, so I guess I have at least other 5-6 years of career ". As for dreams, she does not forget her origins and her many years in the rear, so she flies low: "I'd like to be in the top-50" . Only that? "Well, it would be spectacular to arrive in the second week of Roland Garros, then it would be incredible to win an ATP tournament: after all I have already played a final and two semifinals, sooner or later the time will come. Now I want to win in Milan and show up in the three summer tournaments on clay: Bastad, Hamburg and Kitzbuhel ". Wimbledon doesn't even mention him, although he will debut against Jiri Vesely on Monday. But the time will come for that too.