Five years have passed since the last Italian victory at the ASPRIA Tennis Cup – BCS Trophy (€44,820, clay). Then it was Marco Cecchinato, who started on a path that would even take him to the semi-finals at Roland Garros. He will try to imitate Gian Marco 'Jimbo' Moroni, who did very well to win his third Challenger final after those (both lost) in Mestre 2018 and Rome-Garden 2019. It was not an easy week, but he made it look like one by overcoming every difficulty. And against Holger Vitus Nodskov Rune played the best match of the tournament, sealed by the fantastic long backhand with which he closed the tie-break of the first set. A shot that definitely cut the legs out from under the Dane, who remained on court in the second set mainly for honours, until the 7-6 6-1 final. Still number 1 in the world juniors (although he now only plays among the 'pros'), Rune paid for the fatigue of the day before, in which he had survived a marathon against Pedro Cachin. "But there is a lot of credit to Gian Marco," said coach Fabio Gorietti, with him in Milan, "because Rune plays very well and it was difficult to find a hole in his game. Our idea was to push, keep the game in hand, make him move and prevent him from taking the initiative. Tactically, we thought to play high balls on the forehand and then attack him on the backhand, as well as lengthen the exchanges because we knew he might be tired". Apart from the first three games (3-0 Rune at the start), Moroni executed the task to perfection. He sewed up the disadvantage, then the two fought shoulder to shoulder until the tie-break. Unlike Cachin, the Italian showed his competitive presence from the very first point and cornered Rune.
MORONI'S QUALITIES
'When he arrived in Foligno, Moroni impressed me because he has three characteristics that I like a lot,' says Gorietti. 'He is generous, a fighter who gives everything when he is on the court. That's why we can work well with him; from a technical point of view he was very improvable and this made me realise that certain weapons, already good, could become very good; and then he knows how to win games, another quality that I appreciate a lot. Right from the start we tested his margins by putting him in front of different tasks, and he showed remarkable adaptability. At that moment, we thought we could lead him to a very high ranking'. Moroni was at most ATP number 209, while in Milan he came in at 257th position. 'In the medium term, we are not aiming so much at the ranking as at consistency of performance,' says Gorietti, who trains him together with Federico Torresi, absent in Milan but equally important in the project. 'He still has to assimilate new concepts and is subject to ups and downs. We did a lot of workshop work, in which we set up the machine: I expect him to go full throttle in the short term and be able to produce a standard performance, so as to create an identity for himself as a player. In the long term, I hope he can imitate other Italian players and find the top-100. We believe in it all the way. It will take patience, then when we get there, things change and everything has to be reviewed a bit'. Moroni is only the latest of the players who have passed through the Tennis Training School in Foligno, where practically all of them have reached their maximum potential. A guarantee of quality that is not easy to find elsewhere. With Gorietti it is interesting to retrace the most significant moments of a work that has embraced very different players, but that with a unique method (then adapted to individual cases) has given great satisfaction.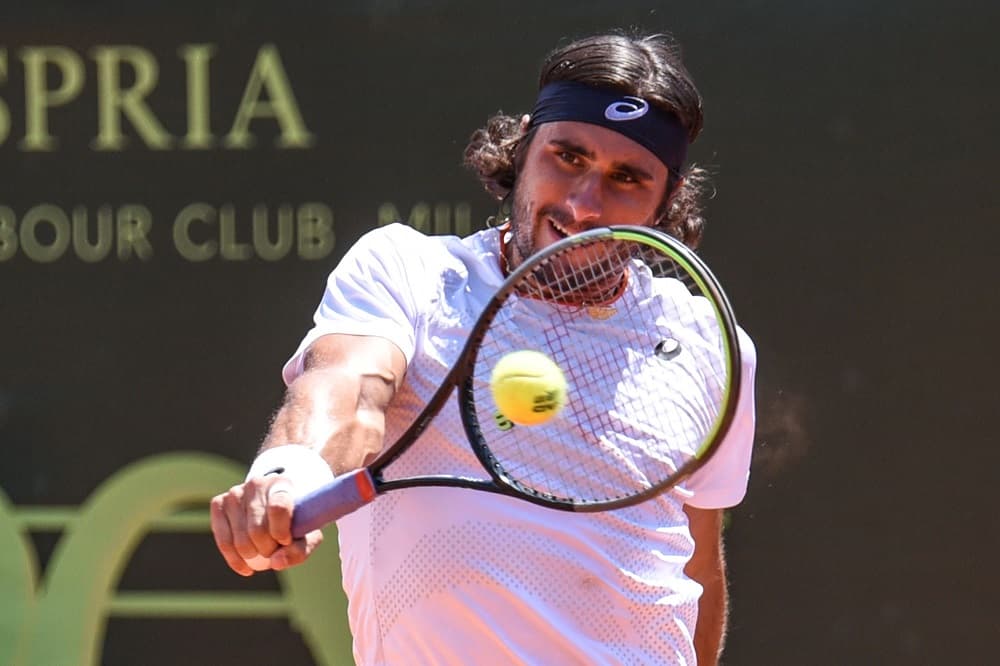 FACING DIFFICULTIES
"The most striking moment was Luca Vanni's final in Sao Paulo, because that result opened up a whole new perspective for him. But there are other moments, such as an Asian trip by Vanni and Thomas Fabbiano. They had problems leaving, then they came back with a changed ranking and a whole new way of working. Then I think of when Stefano Travaglia resumed playing after a bad vertebra injury, and immediately won important matches. And also the good times with Gianluigi Quinzi. We had exceptional times with him. Now we have many youngsters, both adults and younger. We have created a programme to increase the quality of their tennis, with the aim of maintaining it for as long as possible'. In this climate, Moroni really seems to be on the path that could take him where he hopes. Winning in Milan would be a significant step, also on a mental level, because the Roman is not too used to lifting trophies. 'Winning a tournament means that you were continuous and did things well for ten days,' Gorietti continues, 'for me, playing well means trying to win in any condition. There are times when you feel the ball badly, you are tired…. These days Jimbo realised that staying inside the difficulties is a way to deal with them. He didn't run away, he was in it and the results showed. If this characteristic remains, it's really a big step forward. I think of Nadal: in Barcelona he played a bad first round, but then he played a fantastic final against Tsitsipas. That must be the reference point'. Speaking of reference points, Moroni's career will necessarily also have to develop on surfaces other than clay. "I believe that he can come close to this performance also on fast ground,' Gorietti concludes, 'he has assimilated a way of moving that will allow him to play well there too. Moreover, he can serve very well: against Rune he did it in the second set, easily winning his service turns, without giving the other the feeling that he could drop. If he improves his percentages, he can also do very good things on outdoor concrete. For indoor is another matter, but nowadays the really fast courts have practically disappeared'.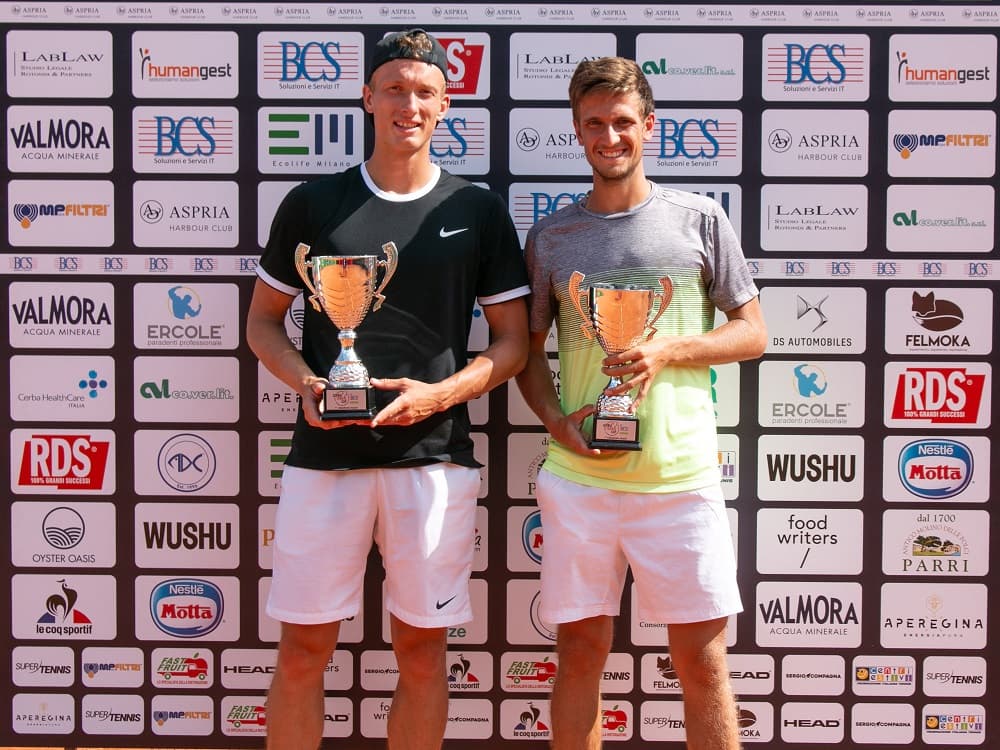 CORIA DOES HIS DUTY: ITALY-ARGENTINA FOR THE RECORD
Federico Coria did not betray. On leaving Prostejov, where he won last week, he said he would try to do the encore in Milan. For now he was true to his word, clinching a place in the final without losing a set. The match against Hugo Grenier was a simple routine for the Argentine, winning with a score of 6-4 6-3. Apart from some difficulties in the beginning, in which he was surprised by the Frenchman's attacks, he managed the exchanges with ease, showing a fantastic defensive phase, helped by two very fast legs. The challenge between Coria and Moroni will have one more suggestion: behind Spain (4 titles), Italy and Argentina are the most titled nations in the ASPRIA Tennis Cup – BCS Trophy, with three titles each. Whoever wins, therefore, will give his nation a decisive boost in this special ranking. The appointment is at 4.30 p.m. at the ASPRIA Harbour Club and live on TV on SuperTennis (channel 64 on digital terrestrial) for a truly fascinating match. It will not be the first direct clash between the two, as Coria and Moroni have already faced each other two years ago in Perugia and the Italian won in three sets. The final will be open to the public, who will be able to access the facility by purchasing Hospitality Coupons made available by the organisers, which will guarantee a 'full' experience at the club, not limited to watching the match. In the meantime, the doubles draw concluded, with the surprise victory of Czechs Vit Kopriva and Jiri Lehecka, in their third tournament as a pair, beating the much more experienced Tristan Samuel Weissborn and Dustin Brown 6-4 6-0.
ASPRIA TENNIS CUP – BCS Trophy (€44,820, clay)
Singles Semifinals
Gian Marco Moroni (ITA) b. Holger Rune (DAN) 7-6(4) 6-1
Federico Coria (ARG) b. Hugo Grenier (FRA) 6-4 6-3
Doubles Final
Vit Kopriva / Jiri Lehecka (CZE-CZE) b. Dustin Brown / Tristan-Samuel Weissborn (GER-AUT) 6-4 6-0