Two years ago it was Lorenzo Musetti, this time bringing Italy into the final weekend of the ASPRIA Tennis Cup – BCS Trophy (44,820€, clay) is a… Buffalo. It is one of Gian Marco Moroni's nicknames, which matured a few years ago when he was training in Spain. He was told that Real Madrid's attacks in the Ronaldo the Phenomeno days looked like the onslaught of a herd of buffalo, and that his intensity in training could remind him of them. He became so attached to the nickname that he mimicked the buffalo's horns after each victory. He did so even in the Milan heat after his success against Duje Ajdukovic, a 6-3 7-5 with considerable specific weight, because the Croatian is worth (much) more than his current ranking. It was a bitter, hard-fought match with many tiring exchanges. "For a couple of games we only played hard exchanges," Moroni says, "but it was necessary, and one shot at a time you move forward. And then I am very well physically, thanks to the good work with trainers and physiotherapists." Moroni showed an athletic freshness that came in handy in a tough second set, in which he couldn't get Ajdukovic off his back: 3-2 and serve, 5-4 and serve, but he was always being pegged back. A break in the 11th game paved the way for the liberating shout, accompanied by a mini-polemic at the handshake: Ajdukovic had not taken kindly to a cheer from the Roman on the second point of the game after a bad bounce. "In the locker room we clarified," clarified Moroni, who had previously trained with the Croatian in Bordighera, "I had not noticed the rebound, I was focused on myself and wanted to close the game. I indulged in a little jubilation, but I had nothing against him and there were no tactical reasons. Besides, we are on earth, where strange rebounds are commonplace." Tactically, Moroni relied on two cornerstones: play as high as possible ("Because he likes to hit at hip height") and lengthen the exchanges. Mission accomplished. For the Roman, this is the seventh Challenger semifinal in his career, the first since Todi 2020. To date, he has advanced to the final only twice (Mestre 2018 and Rome-Garden 2019).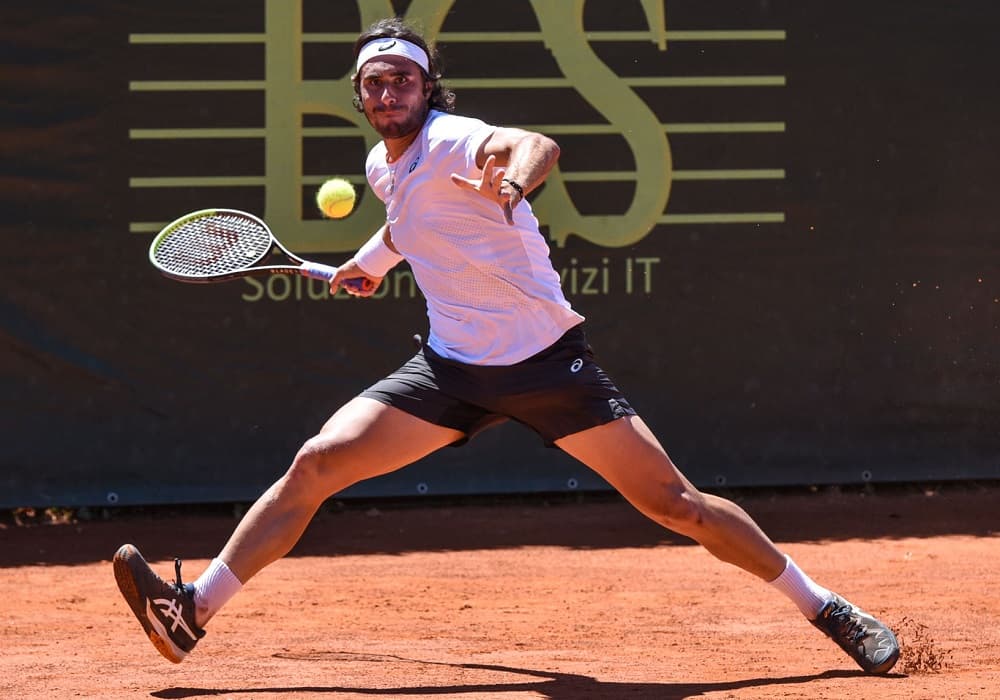 MORE OFFENSIVE TENNIS AND THE FOLIGNO TEAM
Compared to then, he is a different Moroni, forged by the work of the Tennis Training School in Foligno, with Federico Torresi and Fabo Gorietti ("I would also like to emphasize the help of Giampaolo Coppo, I would be pleased to have that known," he adds at microphones turned off). The keenest eye notices a proactive player whose tactical design also includes volleys. "Very true. I try to play as close to the line as possible, cut the court and present myself at the net more often. Last year we broke off the season early precisely to work in this direction: I went on trial in Foligno four days before the tournament in Santa Margherita di Pula, then there I felt a good feeling and that there were some ideas in common. They are giving me a lot from that point of view: I admit I don't have great technical skills in the strict sense, I prefer competition. With defensive tennis I could have achieved a good ranking, but I felt I had to do more. So I took this path." The beginning was not easy, between injuries and some not-so-lucky draws. "Now it's better, but I'm convinced I can do much, much more. If I maintain continuity, I'm sure this path will give me great satisfaction." The feeling is that Moroni is a thoroughbred horse who needed a team he could trust 100 percent: it seems that in Foligno the planets have aligned in the right way. "Fortunately I am only 23 years old and still have a lot to learn," he continues, "physically I am much better, we have added a new physiotherapist, Nicole Gelli, with whom I am getting good results. Given my past, I'm also doing a lot of injury prevention, and I've resumed strength training after shelving it for a while. Despite my size, I never did a lot of weights." Now things are working, and who knows, Italy may have rediscovered a player with great potential, with little to envy to other excellent professionals who will be playing at Wimbledon in the coming days. There is still a long way to go, there will be no shortage of difficulties, but it really seems to be the right one. And he could experience an important stage at the ASPRIA Harbour Club.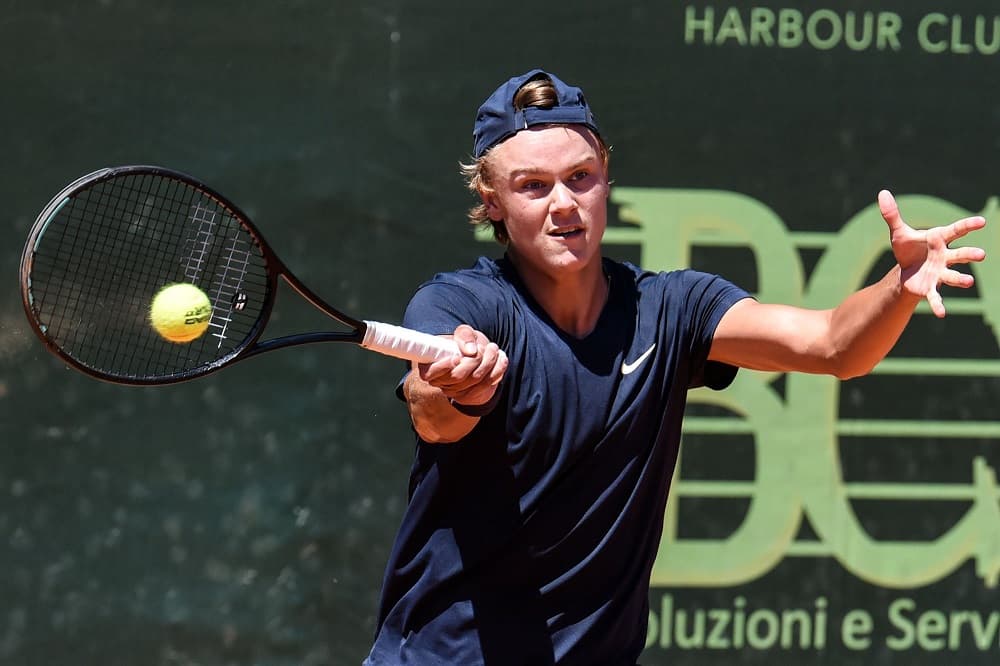 RUNE MIRACULOUSLY SAVES HIMSELF, CORIA IMPRESSES
For a place in the final, Moroni will take on baby-phenomenon Holger Vitus Nodskov Rune, who is coming off an extraordinary period: the Dane has won 14 of his last 16 matches and is credited with the second seed in Milan. If Moroni will have to recover quickly after Friday's exertions, the converse is even more true for Rune, who miraculously came out of his match against Pedro Cachin. It ended 0-6 7-6 7-6, moreover with four matchpoints canceled, all in the tie-break of the third. Fueling the Argentine's regrets was squandering a 5-1 lead in the tie-break. Cachin recriminated for a couple of forehand errors on as many matchpoints, but in the fourth it was fantastic Rune, coming out of a tough exchange with a gutsy backhand forehand. The Dane deserved to win because he believed in it more than his opponent, whose body language was far too passive despite the often favorable score. In contrast, Rune showed the "hunger" needed to win matches like this. His tennis is still immature, but there are important stigmata. The feeling is that against Moroni it will be another tough battle: both will feel the match in a special way. Predictions are much more addressed in the other semifinal, with Federico Coria a clear favorite against Hugo Grenier. The Frenchman has done well to take advantage of a good draw (and it feeds into the regrets for Zeppieri, who came within two points of beating him), but the Argentine is experiencing a great moment of form. After working overtime against Mirza Basic, he dominated against Gastao Elias. The tennis of the Portuguese (former top-60 ATP) does not put him in great difficulty, but the way he cleared him from the court (a tough 6-2 6-0) reinforces his status-already quite evident-as tournament favorite.
ASPRIA TENNIS CUP – BCS Trophy (€44,820, clay).
Singles Quarterfinals.
Gian Marco Moroni (ITA) b. Duje Ajdukovic (CRO) 6-3 7-5
Holger Rune (DAN) b. Pedro Cachin (ARG) 0-6 7-6(3) 7-6(8)
Hugo Grenier (FRA) b. Pedja Krstin (SRB) 6-4 6-4
Federico Coria (ARG) b. Gastao Elias (POR) 6-2 6-0
Doubles Semifinals
Vit Kopriva / Jiri Lehecka (CZE-CZE) b. Sadio Doumbia / Fabien Reboul (FRA-FRA) 7-5 6-3
Dustin Brown / Tristan-Samuel Weissborn (GER-AUT) b. Szymon Walkow / Jan Zielinski (POL-POL) 7-5 6-4