At one point it felt like we were in La Paz, or perhaps Santa Cruz De La Sierra, where Hugo Dellien moved when he was 13 years old to pursue his dream of becoming a tennis player, the first Bolivian level player in more than 30 years. He made it and sparked tennis-mania in his country, so much so that he is supported by several compatriots wherever he goes. There were plenty of them for the final of the ASPRIA Tennis Cup – BCS Trophy (€46,600, clay) as well, at least about 30, cheering hot but civil in the final against Danilo Petrovic. So much passion was rewarded by a win, the fifth in his career on the Challenger circuit. It ended 7-5 6-4 for Dellien against a weaker opponent, particularly on clay. But finals are complicated matches. And Dellien knows this: "I was not comfortable, I felt nervous, I had an obligation to win," he said, "there is a big difference between losing in the final and winning the tournament. Thank God I held on in a complicated match. Although I didn't play the way I wanted to, I fought with the right spirit and that made the difference." Armed with a very powerful serve, a good bunt, and a remarkable long backhand, Petrovic got off to a strong start. The first four games went to advantages, but he was the first to break. He went up 4-1 against a contracted Dellien, author of too many free errors, but always positive with his body language. And he was rewarded. He sewed up the disadvantage until 4-4, then at 4-5 he was three points away from losing the set. In his time of need he showed his class, avoiding trouble. Dellien played the best game of the match at 5-5, finding the decisive break with a great forehand pass and a beautiful play at the net. At the change of court, Petrovic sought trainer intervention for a back problem. He fired four answers in the next game and the match seemed to be over, especially when Dellien broke at the start of the second. A bit of distraction and the Serb's pride brought the partial back into balance. Petrovic regained incisiveness on serve and with the short ball, even building a chance to take the match to the third: on 4-3 in his favor he had three break points that would have led him to serve on the hypothetical 5-3. Dellien played them like a champion and it was he who snatched the Serb's serve in the next game. The rest is almost moving, with the jubilation of his compatriots and the trophy dedicated to them.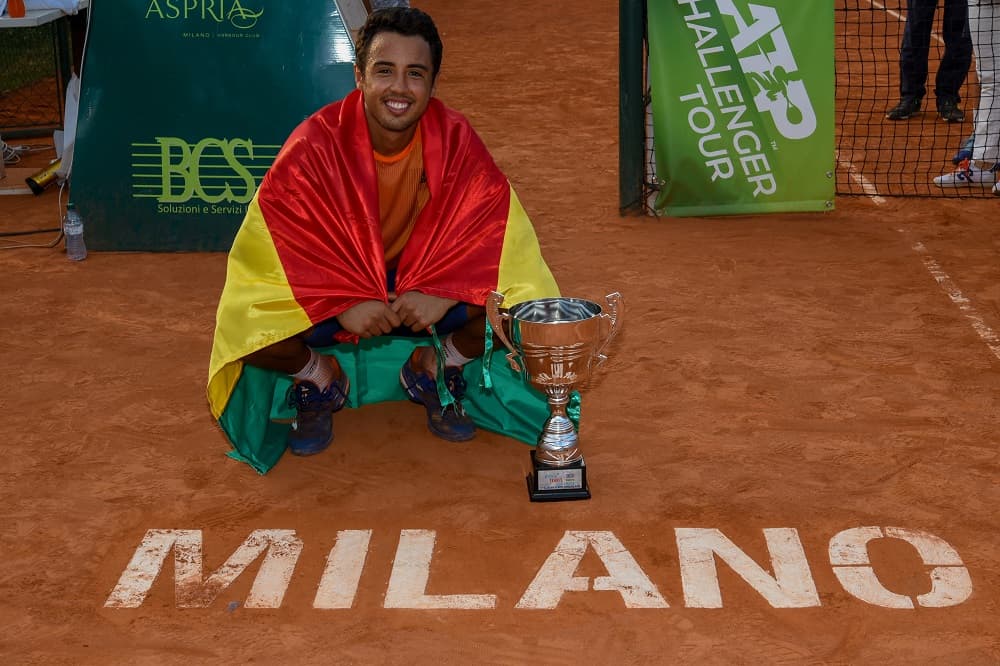 COURSE ON WIMBLEDON, GOAL TOP-50 ATP
"It is special for me to play in front of my people," Dellien says after devoting more than 20 minutes to photos, greetings, hugs, and autographs, "we know that sport in Bolivia does not give great joy. Thank God, my results are making tennis known in my country. Many people are proud, passion is growing, and I am the cause of it all. I have an obligation to represent Bolivia in the best way I can, for now I am doing that and hopefully I will continue that way." Dellien constantly repeats "Thank God," a sign of deep faith. On the other hand, he makes the sign of the cross before every game. So much faith has helped him through difficult times, such as at the end of 2016, when he had stopped playing and invested $15,000 (everything he had saved in years of his career) to set up a partnership with his father. He found the strength to start again, adjusted many technical details (especially his backhand), and will now move closer to his best ranking: the victory in Milan pushes him to ATP number 83, just nine places from his best ranking. But Hugo's goals are far more ambitious: "I leave for Wimbledon already tonight. We will prepare the match in the best possible way, I will find an opponent (John Millman, ed.) who beat Federer at the Us Open. It will be tough, however, I have great confidence. Despite the unfavorable surface I will do my best, after that I will play four more tournaments on clay: a Challenger in Germany and the ATP tournaments in Bastad, Hamburg and Kitzbuhel. At the end we will take stock of the situation, the goal is to end the year as close to the ATP top-50 as possible." The chances are there, although he will have to pick up some points on concrete. He has the tennis and athletic exuberance to pull it off, but he still has everything to prove: the points in his breakdown are all on clay, at most green clay, but always and only clay.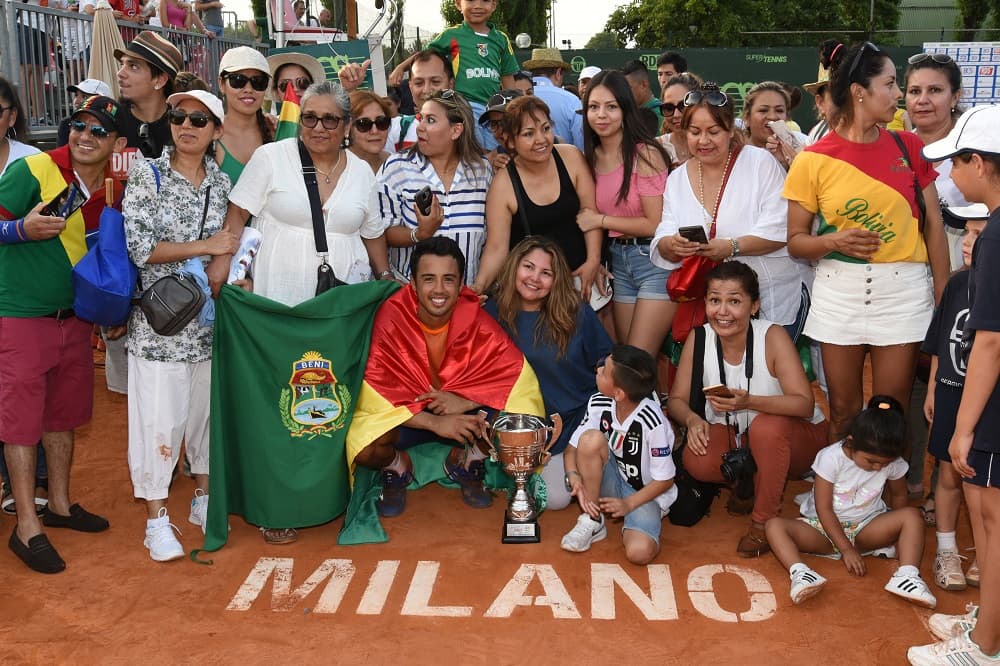 BOLIVIAN HEART
Dellien has taken his role as Bolivia's ambassador seriously (where, moreover, he has not lived for eight years: he resides in Buenos Aires with his young wife Camila Giangreco, a former Paraguayan player). When asked whether it is better to be the number 1 of a country like Bolivia or the 10 of a powerhouse like Argentina, France, Germany or Italy itself may be, his answer is all heart: "I wouldn't know, having never been the number 10 of another country. But if the question is about economic possibilities, it depends on the individual. Personally I prefer a thousand times to represent a nation that has never had players, to be the first to start on a path and and be followed by everyone. More than money, the affection and support of a whole country counts." And off to shower and dinner, waiting to catch a flight to London, where his journey will start again. Last year, Laslo Djere played in Milan as No. 101, won the tournament and then would turn his career around, even climbing into the top 30. Dellien dreams of doing the same. Thus ends, wrapped in the red-yellow-green tricolor of the Bolivian flag, the 14th edition of the ASPRIA Tennis Cup – BCS Trophy. A very successful edition, which sold out for the finals and matches of excellent level, even in the complicated mid-week days when the heat had reached almost unbearable peaks. An edition that launched the star of Lorenzo Musetti, a splendid semifinalist, and that confirmed the qualities of the organizers, from tournament director Massimo Lacarbonara and the Makers staff, starting with the indefatigable Carlo Alagna. Once again, Milan has confirmed itself as a Great Tennis City. The appointment is for next summer.
ASPRIA TENNIS CUP – BCS Trophy (€46,600, clay)
Singles Final.
Hugo Dellien (BOL) b. Danilo Petrovic (SRB) 7-5 6-4